MCTRL660 Novastar Led Display Controller adalah pengendali master independen terbaru dari NovaStar , yang terutama digunakan untuk layanan sewa layar led .
Mendukung tampilan layar tampilan led sewaktu-waktu tanpa komputer.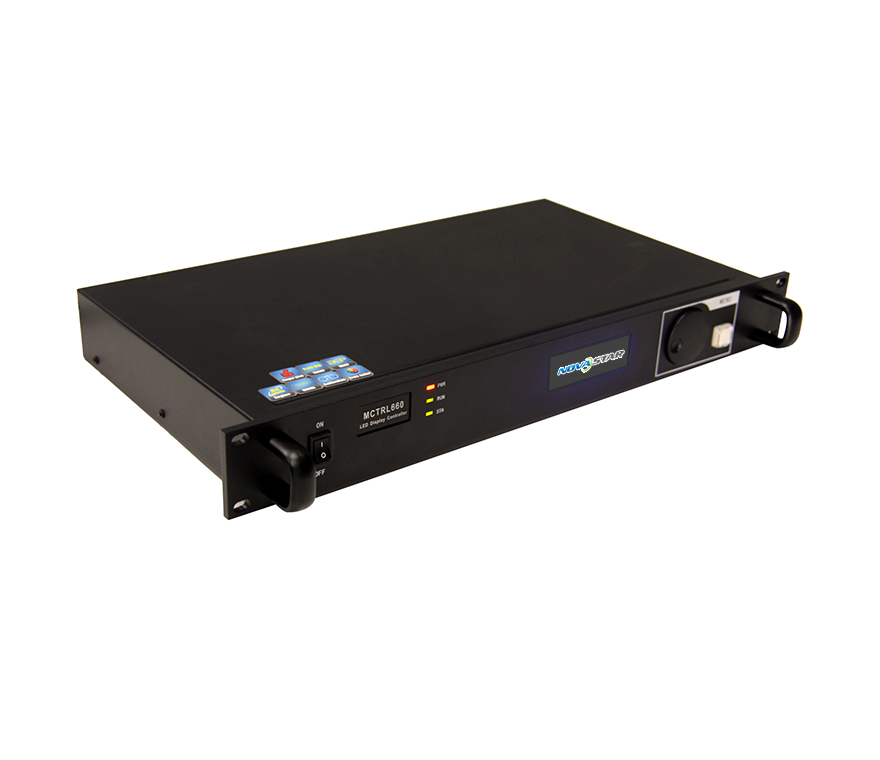 1) Ini telah mengadopsi desain inovatif untuk menerapkan konfigurasi cerdas dan konfigurasi layar dapat diselesaikan dalam 30 detik;
2) Ini telah mengadopsi mesin Nova G4, yang membuat layar yang dipimpin stabil dan bebas flicker tanpa garis pemindaian. Gambar menjadi sangat indah dan membawa rasa kedalaman yang baik;
3) Mendukung generasi baru teknologi kalibrasi pixel-by-pixel Nova yang cepat dan efisien;
4) Ini dapat menerapkan kalibrasi keseimbangan putih dan pemetaan gamut warna berdasarkan fitur LED yang berbeda yang digunakan oleh display untuk memastikan pemulihan warna yang benar;
5) Ini adalah satu-satunya sistem kontrol yang mendukung input dari 12-bit high-definition multimedia interface (HDMI) dan perlindungan konten digital bandwidth tinggi (HDCP) di Cina;
6) Mendukung layar tampilan layar led sewaktu-waktu tanpa komputer;
7) Mendukung penyesuaian manual kecerahan layar layar yang dipimpin , yang nyaman dan efisien. Fitur-fitur ini telah memenuhi kebutuhan khusus layanan sewa display semaksimal mungkin;
8) Input HDMI / DVI;
9) Output HDMI / DVI;
10) Input audio HDMI / eksternal;
11) 12bit / 10bit / 8bit sumber video HD;
12) Resolusi yang didukung: 2048 × 1152,1920 × 1200,2560 × 960;
13) Resolusi yang didukung: 1440 × 900, (12 bit / 10 bit);
14) Cascading didukung;
15) pengolahan dan presentasi skala abu-abu berukuran bit-bit;
16) Format video: RGB, YCrCb4: 2: 2, YCrCb4: 4: 4.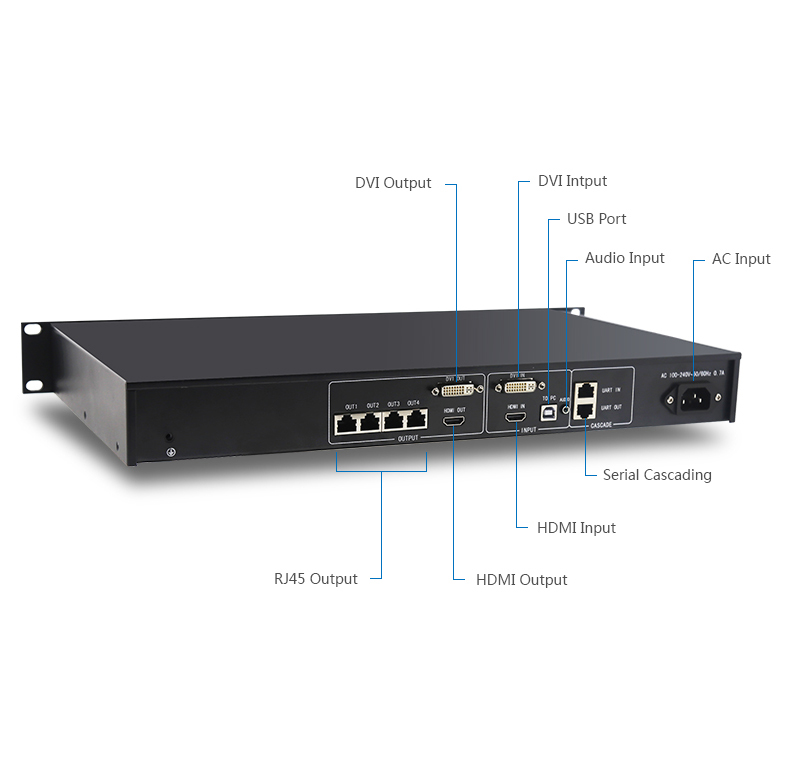 Input index

Interface

Resolution specification

DVI

VESA standard (support 1080i input); support HDCP

HDMI

EIA/CEA-861 standard; meet HDMI-1.3 standard; support HDCP
Output index

Interface

Number

Resolution specification

DVI

1

Correspond with DVI input

HDMI

1

Correspond with HDMI input
Control interface

Port

Number

Instruction

TO PC(USB)

1

Control interface of upper computer
Specification for complete machine

Input power

AC 100-240V, 50/60Hz

Power consumption of complete machine

16W

Working temperature

-20~60℃

Dimension

483×273.5×55.56(MM)

Weight

5.3Kg

Input power

3.9 Kg

USB Cable

1.5M

DVI Cable

1.5M

①:Indicate the power indicator;
②:LED Indicator
PWR: Indicate the power indicator.
RUN: Indicate equipment running indicator 1. It blinks quickly when no video source is available and blinks normally when a video source is available. when the redundancy works, the indicator fades gradually.
STA: Indicate equipment running indicator 2. It is steady on when the equipment runs normally and blinks during authorization.
③: Operation screen.

A. Indicate access of a video source on the HDMI. It blinks in the case of no video source input.
B. Indicate that the machine is in the master mode.
C. Indicate that the resolution is 1920 x 1080 pixels and that the frame frequency is 60 Hz.
D. Indicate that the current brightness of the screen is 50%.
E. Indicate that network interface 2 has loads.
④: Knob: Press the knob to enter the option and rotate the knob to conduct selection or adjustment.
⑤: ESC: Exit from the current operation or option.

Catatan: pengaturan antarmuka dapat sedikit disesuaikan untuk meningkatkan pengalaman pengguna. Silakan dalam bentuk menang.
INPUTS

AUDIO

Audio INPUT

HDMI IN

HDMI INPUT

DVI IN

DVI INPUT

OUTPUTS

DVI OUT

DVI OUTPUT

HDMI OUT

HDMI OUTPUT

OUT1~4

4 LED OUTPUTS

Control

TO PC

Connect to PC , USB Control interface

UART IN.OUT

Cascaded INPUT .OUTPUT

POWER

AC-100-240V-50/60HZ

AC Power interface
Kategori Produk : Led Display Controller > Sistem Kontrol Novastar